The adventures of Happy Pennington continue!—this time in New York City. I am so delighted finally to be releasing Ms America and the Brouhaha on Broadway, the fifth book in my Beauty Queen Mysteries series. This novel is full of the mystery and high jinks (and fashion and exotic cocktails) you've come to expect from the series, but in this installment I also devote a great deal of attention to the main character's personal story lines. Perhaps that's why it took me longer than usual to complete this book. I wanted to get every character's personal story just right.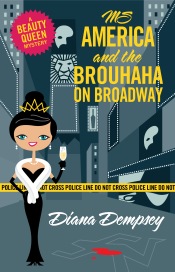 I hope you'll think I did.
Of course Happy is loving her reign as Ms. America, even though the year is full of surprises. Who knew she'd turn out to be a crack homicide investigator? Who knew her husband Jason would land a job on a NASCAR pit crew and become a calendar coverboy? And who knew that after all these months, the hunky Mario Suave would still show up in every city where Happy makes an official appearance? If I didn't know better, I'd think that man was following her. What could he be after?
But it's not what Mario wants that intrigues me most. It's what Happy wants. She's a beauty queen to her core, but she knows it won't be all that long before she must cede her tiara and her title. And unless she wins the big upcoming international competition, which of course she'll try hard to do, what will she do next with her life? Her best friends Trixie and Shanelle face major changes, too. Trixie's family is relocating from Charlotte to Savannah. And Shanelle must confront an upheaval in her mother's life.
One thing is for certain with these beauty queens: life is never dull. And if it slows down for even an instant, voilà! Someone dies mysteriously. And Happy must figure out how. And why. And by whose hand ...
Let me know what you think of Ms America and the Brouhaha on Broadway. I truly do love to hear from you, so click on talk to me! to send me an email. If you haven't already, sign up to my mailing list to keep up-to-date on my new releases and all other big news. Please join me on Facebook and follow me on Twitter.
Most of all, keep reading …